FARGO — Spring is the season for fresh asparagus, and today's Pan-Fried Asparagus alla Siciliana is one of my favorite and most flavorful ways to prepare this popular vegetable.
Fresh asparagus is pan-roasted until lightly golden, yet crisp, and topped with a warm medley of classic Sicilian ingredients, including tomatoes, Kalamata olives, anchovies, garlic and oregano.
This is a quick and simple side dish that can be on the table from start to finish in under 10 minutes. To achieve this efficiency, I cook the tomato topping in a separate pan from the asparagus so I can cook the two components at the same time.
I roast the asparagus spears first in a large pan with a little extra virgin olive oil, turning them every few minutes until they are lightly browned and crisp (al dente). This should take about six to seven minutes over medium heat, which is plenty of time for the asparagus spears to cook and still pop a bit, but not enough time for them to soften or become mushy.
While the asparagus is cooking, I prepare the Sicilian topping in another, smaller pan. First, I fry thin slices of garlic in olive oil with a finely chopped anchovy for two minutes, until the garlic is slightly browned and the anchovy is almost dissolved. Anchovies are an important seasoning in Sicilian cuisine and they give this dish an incredible depth of flavor.
Then I stir in the cherry tomatoes, Kalamata olives and oregano and cover the pan and let the ingredients cook until the tomatoes begin to blister and release their juices. Since the anchovies have their own natural saltiness, I just add a pinch of kosher salt and black pepper to flavor the mixture.
When I'm done, I remove the pan from the heat and keep it covered to retain its heat until the asparagus is tender. You can prepare the topping ahead of time and reheat it before serving, and it would also make a great topping for bruschetta or flatbread pizza.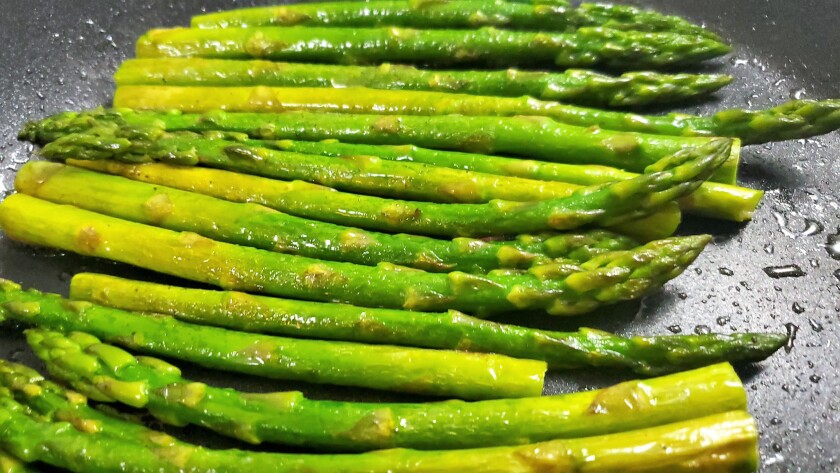 To serve the asparagus, I place the spears on a platter, stacking if necessary with the tips pointing in the same direction. Then I scoop the tomato-olive topping in a line across the center of the spears, making sure to get all the juices from the pan in it. To finish the dish, I add a dash of grated Parmesan cheese and a squeeze of freshly squeezed lemon juice. This dish pairs beautifully with lighter proteins such as fish, chicken and pork.
Simple, seasonal and filled with the wonderful flavors of Sicily, Pan-Fried Asparagus alla Siciliana is a family favorite in our home, and I hope you enjoy it too. Enjoy your meal!
PRINT: Click here for a printer-friendly version of this recipe
Servings: 4 to 6
Ingredients:
3 tablespoons plus 1 teaspoon extra virgin olive oil, divided
2 cloves garlic, thinly sliced
1 anchovy, finely chopped (optional)
½ pint cherry tomatoes, whole
¼ cup Kalamata olives, pitted and quartered
½ teaspoon dried oregano
Pinch of kosher salt and black pepper
Freshly squeezed lemon juice (to taste)
Directions:
Heat 2 tablespoons of olive oil in a large skillet over medium heat. Place half of the asparagus in the pan with the tips pointing in one direction. Place the remaining spears in the pan with the tips facing the opposite way. Cover the pan and reduce the heat to medium-high. Cook for 2 minutes, then flip the spears. Repeat this process 2 to 3 more times until the spears are light brown and crisp.
Meanwhile, make the topping while the asparagus is cooking. In a medium skillet, heat 1 tablespoon olive oil over medium heat for 1 minute. Add the garlic and anchovy fillet and cook over low heat for 2 minutes, stirring constantly, until the garlic is very lightly browned and the anchovy is almost dissolved.
Add the cherry tomatoes, olives, oregano and 1 teaspoon olive oil. Toss to combine and cover pan. Cook over low heat, stirring occasionally, until tomatoes begin to bubble, about 5 minutes. Remove from heat, cover pan and set aside.
Place the cooked asparagus on a serving platter and spoon the tomato-olive mixture over it. Sprinkle the Parmesan cheese all over the dish and finish with a squeeze of fresh lemon juice.
This week on…
Recipes can be found with the article on InForum.com.
"Home with the Lost Italian" is a weekly column written by Sarah Nasello featuring recipes from her husband, Tony Nasello. The couple owned Sarello's in Moorhead and live in Fargo with their son Giovanni. Readers can reach them at [email protected]
window.fbAsyncInit = function() {
FB.init({
appId : '609251773492423',
xfbml : true,
version : 'v2.9'
});
};
(function(d, s, id){
var js, fjs = d.getElementsByTagName(s)[0];
if (d.getElementById(id)) {return;}
js = d.createElement(s); js.id = id;
js.src = "https://connect.facebook.net/en_US/sdk.js";
fjs.parentNode.insertBefore(js, fjs);
}(document, 'script', 'facebook-jssdk'));